R.E.A.D.Y. to Lead
Are you transitioning from the role of individual contributor to supervisor?
R.E.A.D.Y. provides key insights and specific skills designed to help front-line managers assess their leadership capabilities and develop a successful action plan for creating a more engaged workforce. The front-line supervisor's role is to equip and prepare employees to take care of the customer while helping them progressively work independently and interdependently. R.E.A.D.Y. teaches front-line leaders the skills they need to manage relationships while keeping employees engaged in the day-to-day. Their ability to manage the behaviors and attitudes of individual contributors in a way that reinforce the organization's values and culture is essential in building a fully-contributing workforce.
Learning Objectives:
The transition from Individual Contributor to Supervisor is a significant one for most people, and the R.E.A.D.Y. Program specifically prepares participants to:

Train, motivate and bring out the best in their employees
Deepen their own self-awareness as a means to excellent communication and supervision
Elevate their own and their employees' critical thinking and problem-solving skills
Practice ways to develop others by demonstrating empathy, holding them accountable, and establishing consequences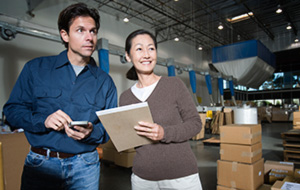 Who will benefit from R.E.A.D.Y.?
Anyone in your organization who is transitioning from Individual Contributor to Supervisor
Meet Our Facilitator

Kristen Kramer Kristen Kramer is a highly sought-after leadership trainer, speaker, consultant, and coach. She works with some of the world's largest companies, as well as fast-growing startup organizations, from advising C-suite executives to coaching high-potential individual contributors. Kristen is skilled at working with individuals, teams, and organizations to accelerate leadership growth at all levels.
Prior to founding Kramer & Company, Kristen served as Senior Faculty and Leadership Solutions Partner with CCL. She has experience with diverse industries, including manufacturing, engineering, retail, food and beverage, CPG, legal, and startups. She also serves as a Teaching Fellow with the College of Law of Australia and is an Adjunct Professor with Denver University's MBA program.
View brochure